FAT LEAF WATER IS "GO-TO" DRINK FOR SURGE™ 

Surge Volleyball Club RI is thrilled to have experienced the great taste (all three flavors!) and amazing hydrating benefits of Fat Leaf Water!   Our practices and leagues run from spring to fall and are all outside where it gets hot so staying hydrated is super important.   Fat Leaf Water is our sports hydration "go to" drink .. refreshing, thirst quenching, satisfying, full of antioxidants with the right balance of electrolytes!
MY BEAUTY BUNNY™  FAT LEAF WATER REVIEW AND GIVEAWAY 
"WE ARE THRILLED THAT MY MY BEAUTY BUNNY TOOK THE TIME TO GIVE FAT LEAF WATER ANOTHER REVIEW AND ALSO WILL BE GIVING OUT A $50 AMAZON GIFT CARD TO ONE OF HER LUCKY READERS. IN HER REVIEW, JEN (MY BEAUTY BUNNY) TALKS ABOUT HOW A MEDICAL CONDITION SHE HAS MEANS SHE NEEDS TO BE HYDRATED MORE THAN THE AVERAGE PERSON. SHE THEN GOES ON TO TALK ABOUT THE HYDRATION EFFECTS OF FAT LEAF, AND HOW SHE PREFERS OUR SPORTS HYDRATION DRINK TO HER ELECTROLYTE POWDERS. THERE'S SO MUCH GREAT STUFF IN MY BEAUTY BUNNY'S FULL REVIEW. NOT TO MENTION THAT $50 GIFT CARD! THANKS AGAIN TO JEN FOR MAKING THIS HAPPEN, WE REALLY" APPRECIATE IT!
STYLE & SOCIETY REVIEWS FAT LEAF CACTUS WATER

FAT LEAF WATER FEATURED IN FETE LIFESTYLE MAGAZINE
It's an honor to be featured in the latest issue of Fete Lifestyle Magazine! The prickly pear cactus is a super plant that somehow stays super hydrated in harsh dry climates. It efficiently stores water in its large, flat and fleshy pads or leaves. Thus, the name Fat Leaf Water. Fete is a digital and print magazine that features a global view on food, sports, fashion, and more. Thank you, Fete, for making us part of your global coverage! 
FAT LEAF REVIEWED ON ENCHANTED SEASHELLS BLOG
We were recently given a positive review on Princess Rosebud's "Enchanted Seashells" blog. "All the flavors were super hydrating and really quenched our thirst." 
A MIDLIFE WIFE REVIEWs 
CACTUS WATEr
We are excited to share that A Midlife Wife blog has recently reviewed Fat Leaf Water. A "Healthy Living, Loving, and Life" blog located in the Central Valley of California, she found Fat Leaf to be a great fit for the heat and lifestyle of that area. Thanks for the great review, Chris! "This Fat Leaf Water is a perfect item for those living in high heat and those that exercise outdoors. Being able to add critical nutrients and rehydrate quickly is key and this product is definitely one for that."  Chris Carrol, A MidLife Wife Read the full review here.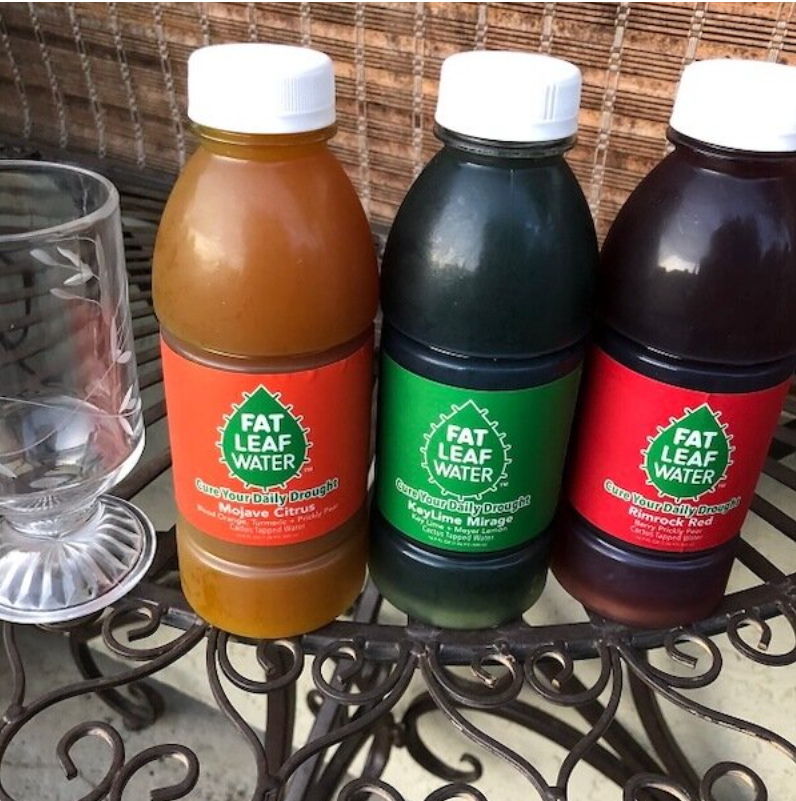 REAL MOM OF SFV BLOGGER 
REVIEWS FAT LEAF WATER
THE LATEST REVIEW OF FAT LEAF
WATER COMES FROM REAL MOM OF SFV, A PERSONAL BLOGGER OUT OF THE LOS ANGELES AREA. JEN MIYAGISHIMA TRIED OUR MOJAVE CITRUS FLAVOR POST-WORKOUT AND HAD THIS TO SAY… "JUST WHAT I NEEDED THIS MORNING!"
READ THE FULL REVIEW HERE.
MY BEAUTY BUNNY™ THE FIRST TO REVIEW  FAT LEAF WATER
We were both honored and flattered to have popular Los Angeles blogger My Beauty Bunny (Jen Mathews) be the first to review Fat Leaf Water! In her Instagram story she talked about how her pruny-looking fingers is a indication of her being dehydrated.  She tests her own hydration by her fingers, and here at Fat Leaf Water we love to tout that we provide hyper hydration to both athletes and non-athletes alike. She drank half a bottle (of our Key Lime  Mirage flavor) and before too long her fingers plumped up!